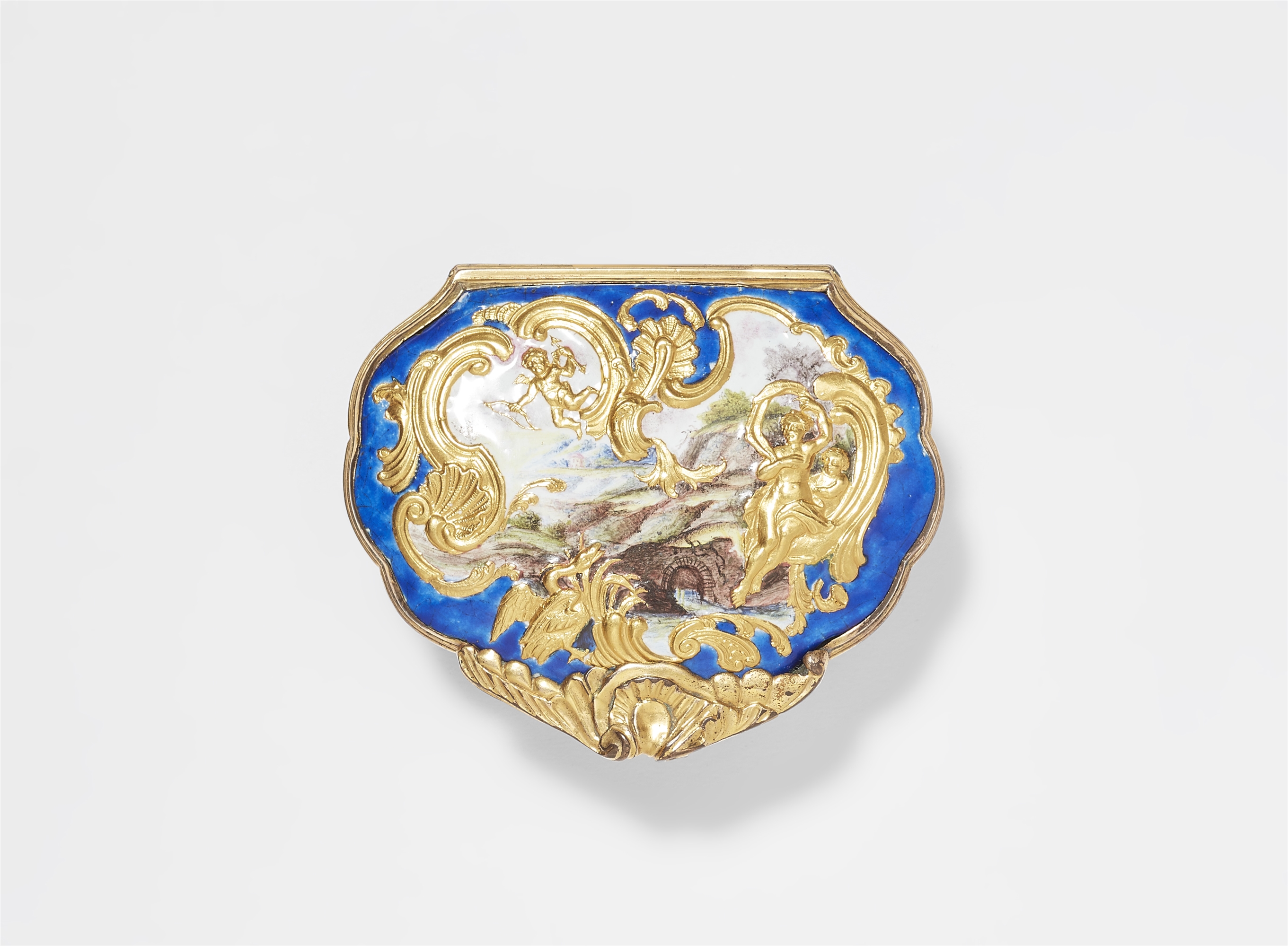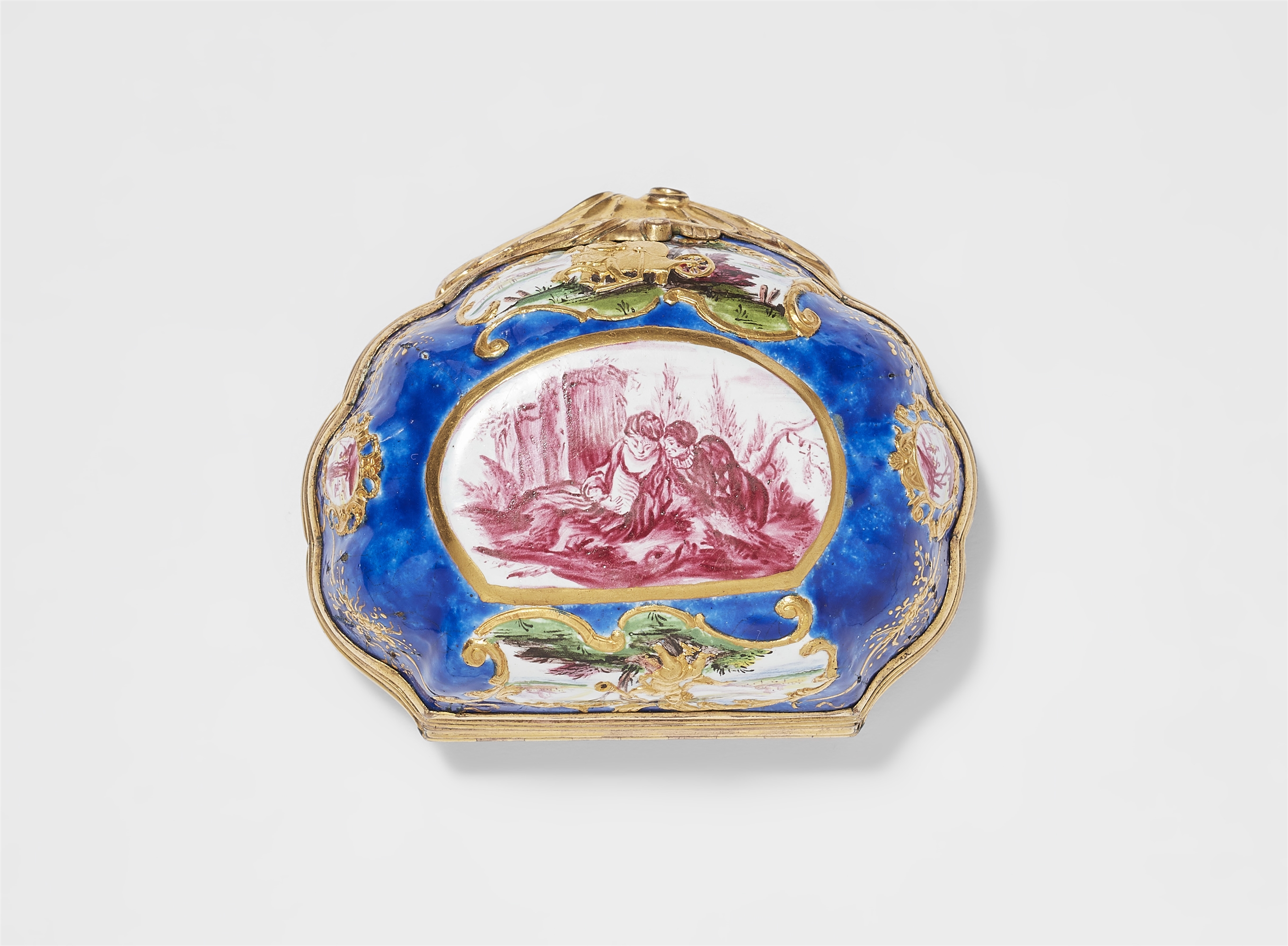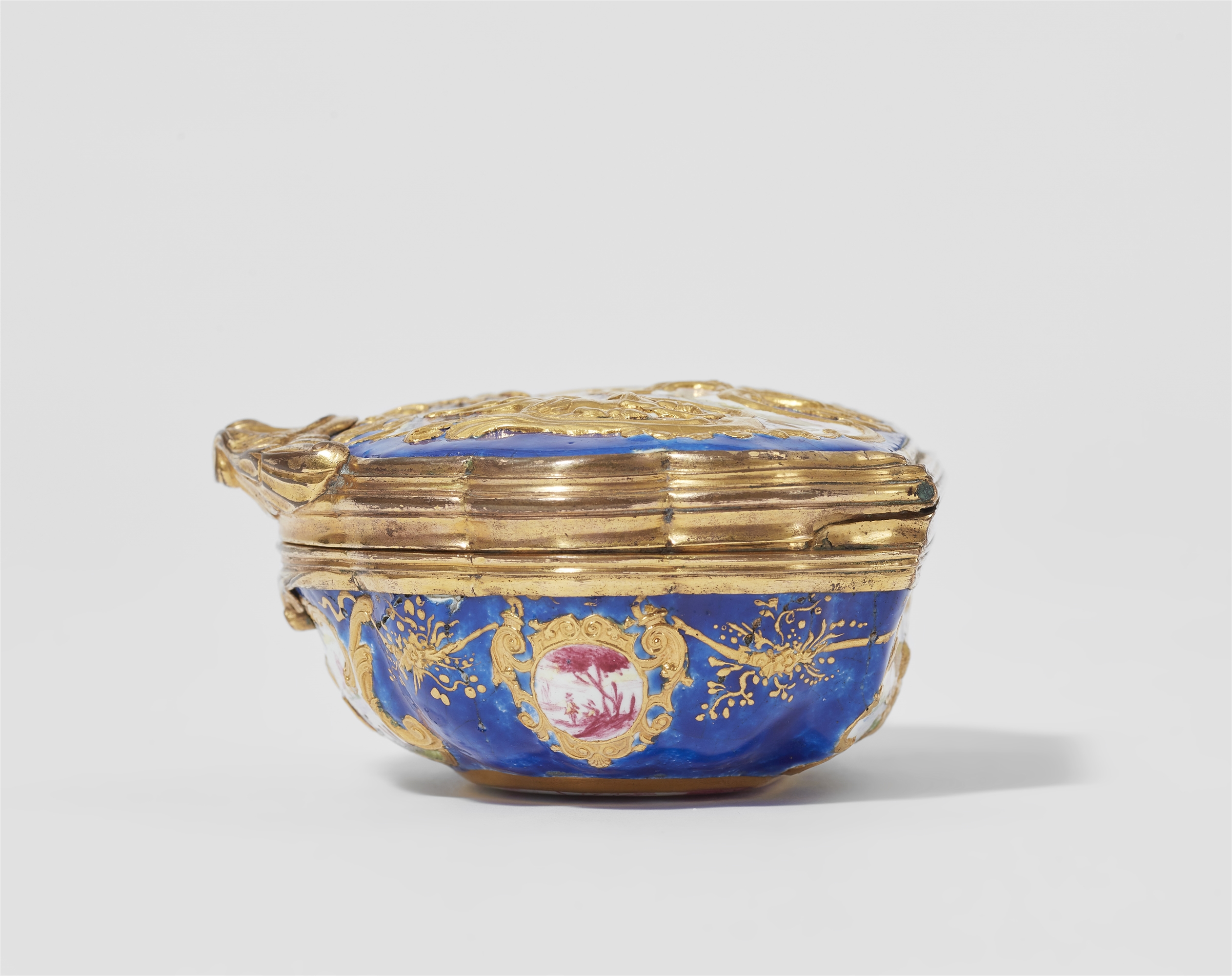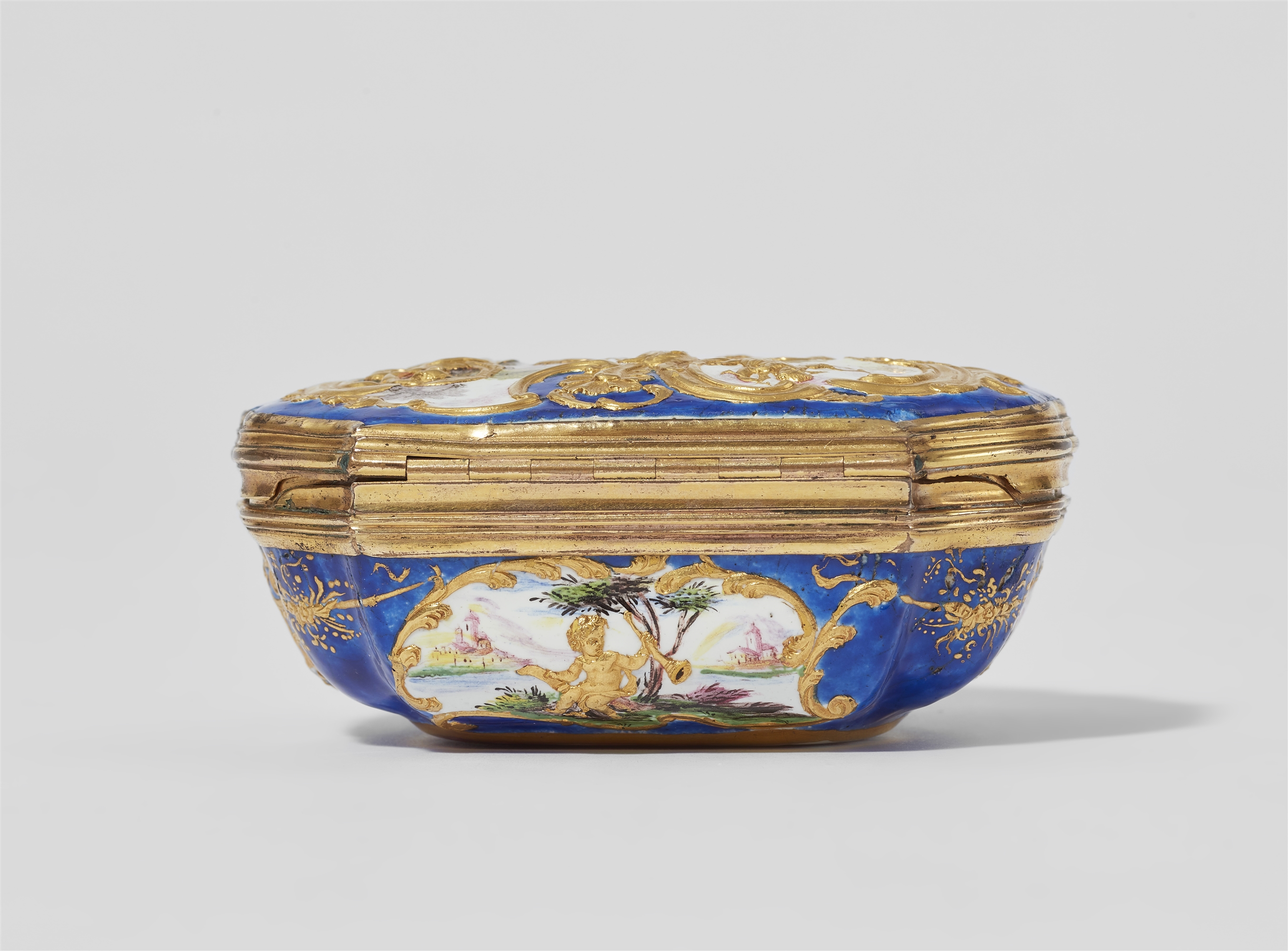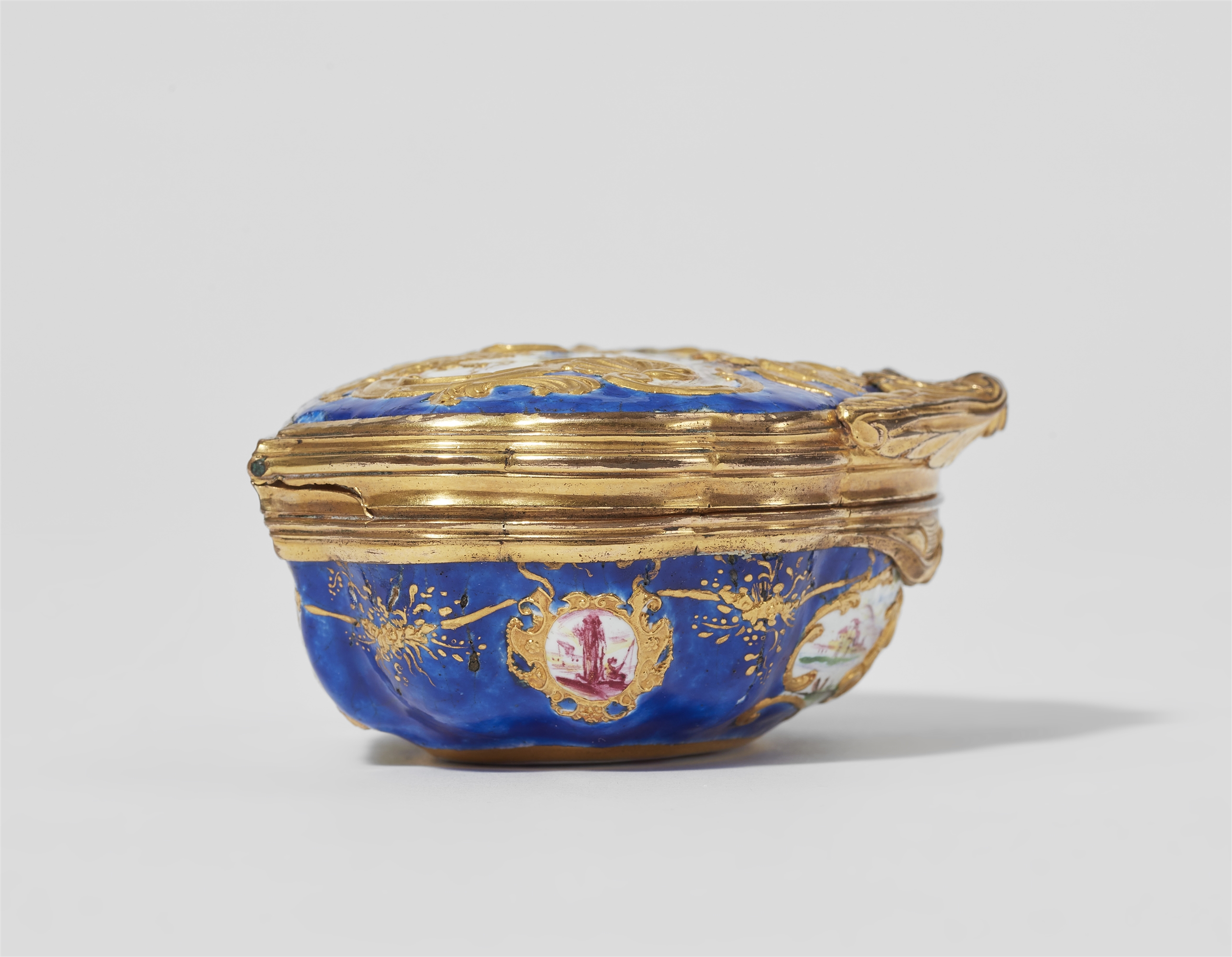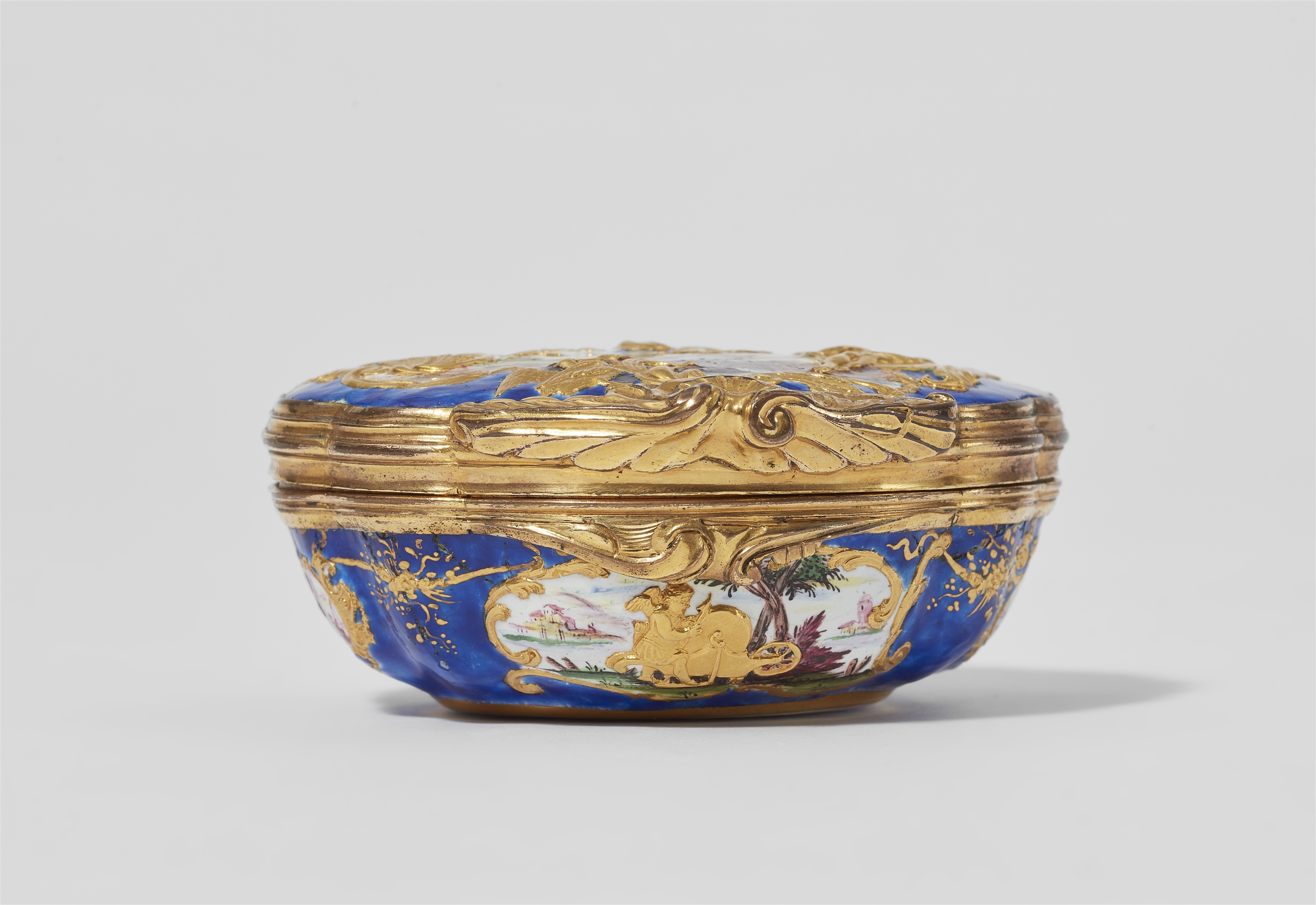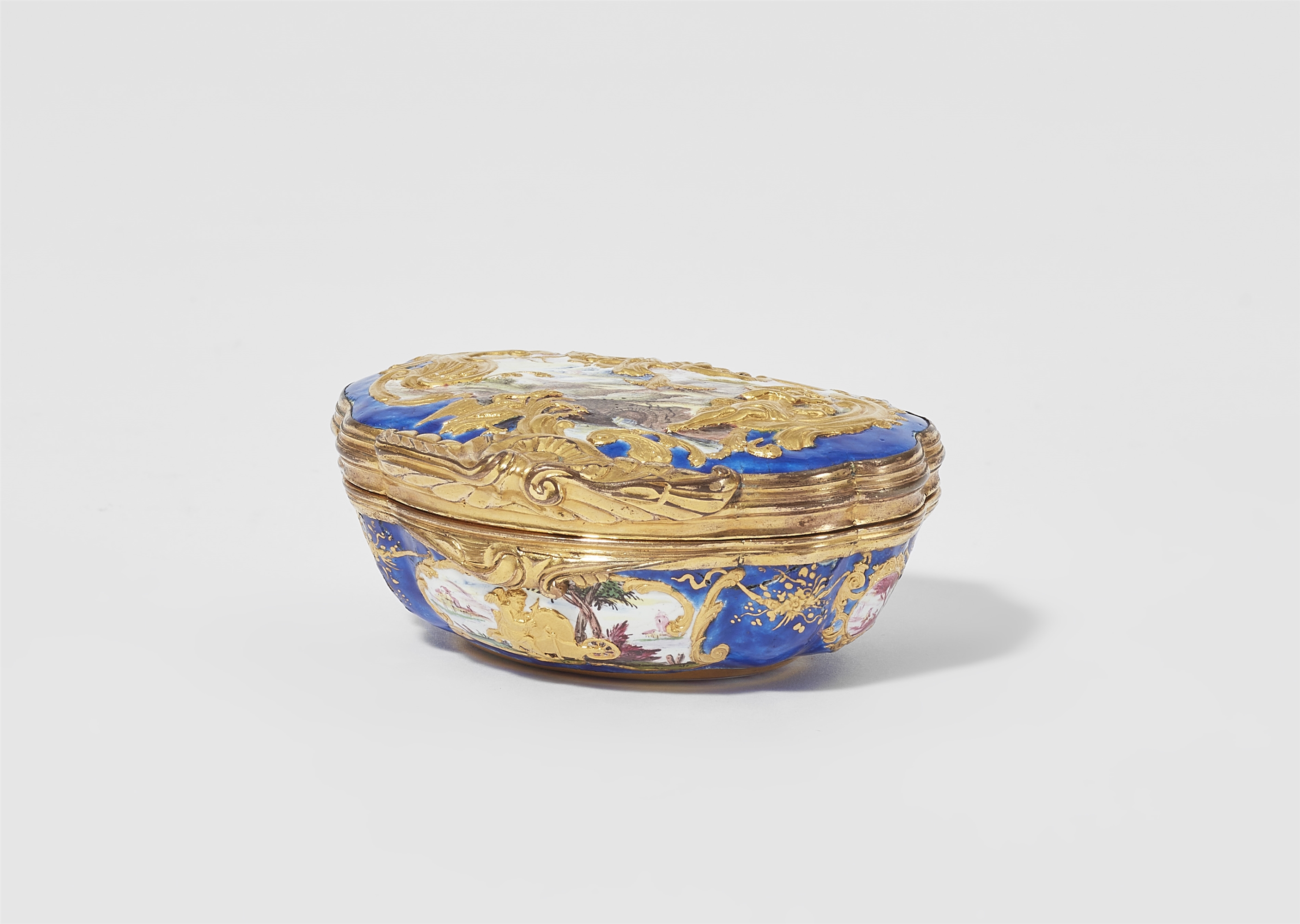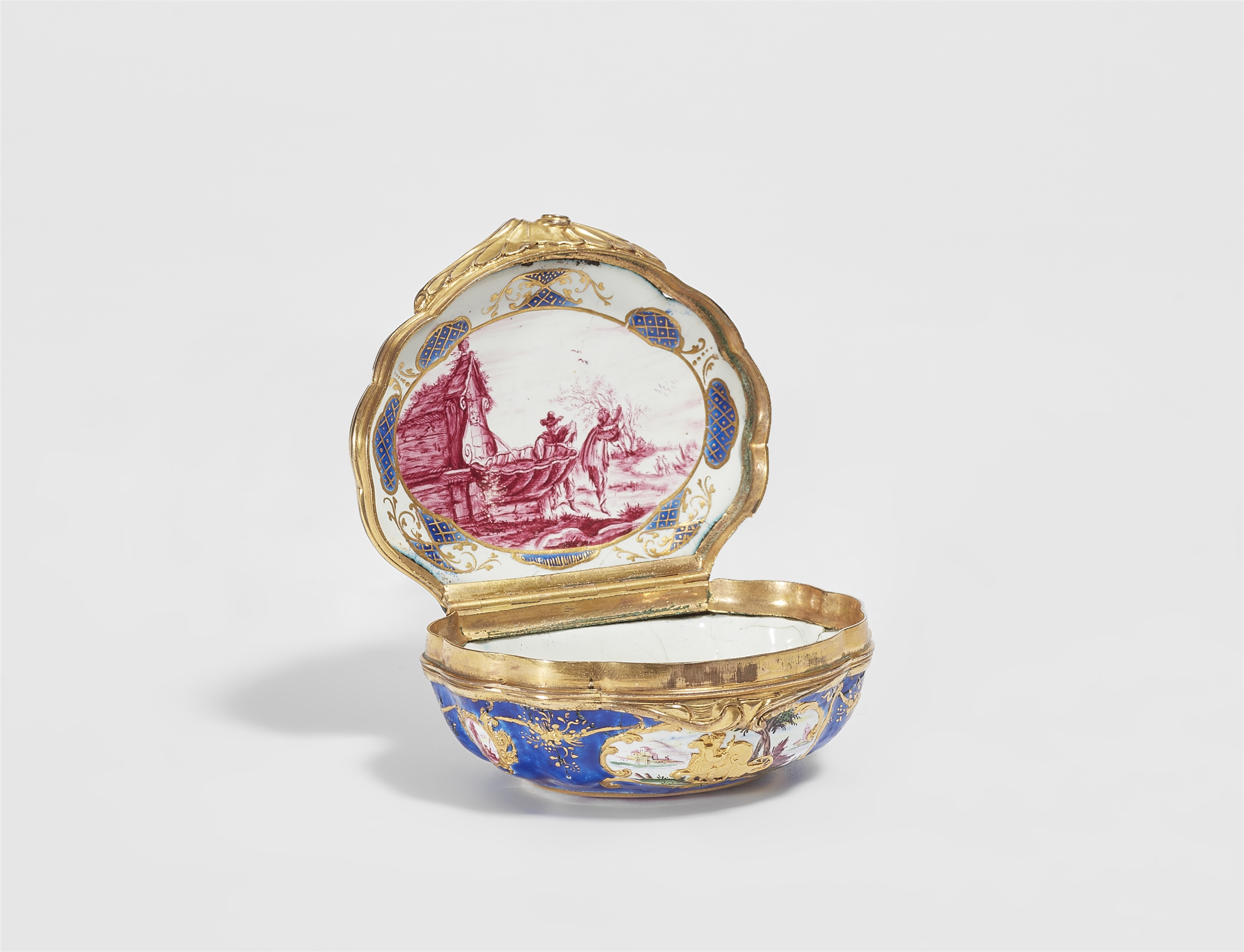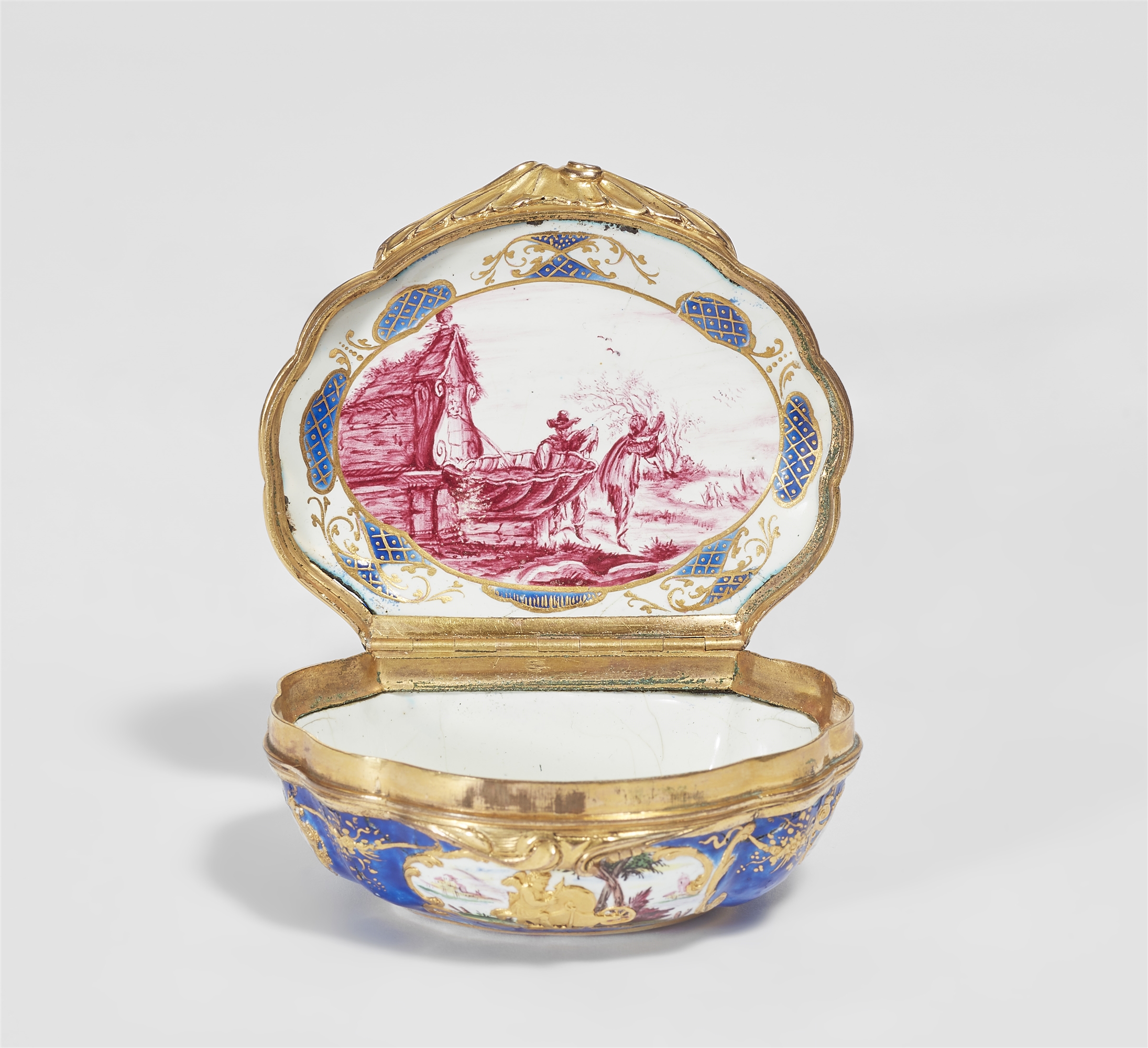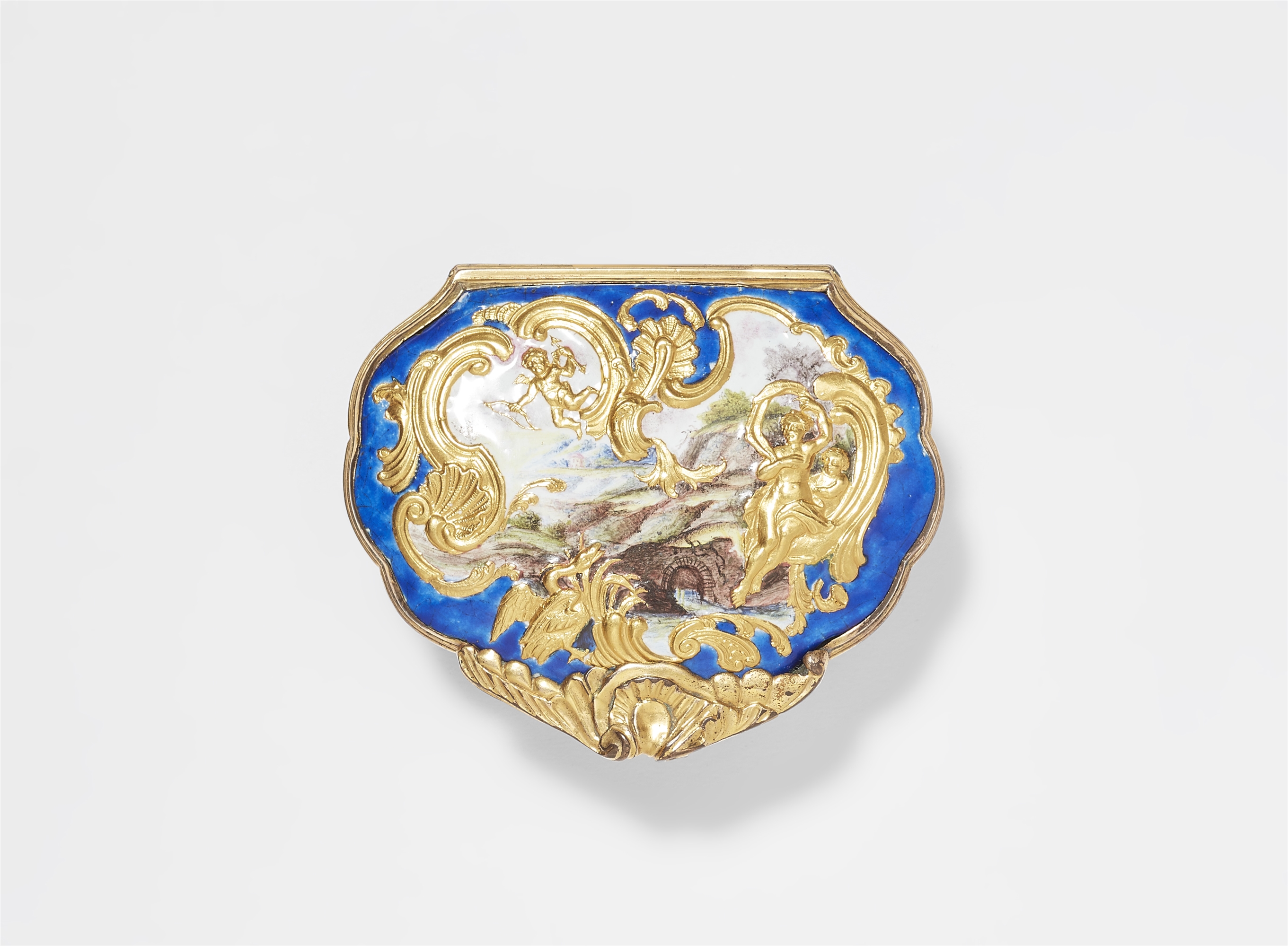 A snuff box with email de saxe decor
---
A snuff box with "émail de saxe" decor
Shield shaped gilt copper mounted tobacco box decorated with mythological scenes and landscapes in raised enamel and gilding. With cracks and minor wear to the interior. H c. 3, W 7.9, D 7.8 cm.
Berlin, attributed to the workshop of Pierre and Alexander Fromery 1730s/1740s, decor attributed to Christian Friedrich Herold.
The painted enamel boxes produced in the Fromery workshop were the most famous product from Berlin at the time and were distributed throughout Europe. The Berlin-born Meissen painter Christian Friedrich Herold also worked for Fromery (this caused him a lot of trouble as he was repeatedly caught stealing purple pigment from the manufactory stocks and punished with a prison sentence). Pierre Fromery (1679 - 1738) was originally a goldsmith, but later specialised in the production of gilded and enamelled copper and founded a large distribution company for fancy goods (hairbrushes, tobacco boxes, bottles etc.), which was taken over by his son Alexander after his death.
Tabatière "émail de saxe"
Kobaltblaues und farbiges Maleremail und Vergoldung auf weißem Emailfond über Kupfer, vergoldetes Kupfer. Reliefierte geschweifte Kartuschenrahmen um erhabene vergoldete mythologische Figuren, farbige Landschaften und Szenen in Purpurcamaieu. Risse, innen etwas berieben. H ca. 3, B 7,9, T 7,8 cm.
Berlin, Werkstatt Pierre und Alexander Fromery, zugeschrieben, 1730er/1740er Jahre, der Dekor Christian Friedrich Herold, zugeschrieben.
Das berühmteste Berliner Produkt, das europaweit vertrieben wurde, war die farbige Emaildose der Manufaktur Fromery, für die auch der in Berlin geborene Meißener Maler Christian Friedrich Herold arbeitete (was die Porzellanmanufaktur nicht so gerne sah, auch weil er die Purpurfarbe aus Manufakturbeständen wiederholt stahl - und deswegen auch mit Gefängnis bestraft wurde). Pierre Fromery (1679 - 1738) war ursprünglich Goldschmied, hat sich aber dann auf die Produktion von emailliertem Kupfer mit Goldauflagen spezialisiert und einen großen Vertrieb für Galanteriewaren (Bürsten, Tabakdosen, Flakons) gegründet, der nach seinem Tod von seinem Sohn Alexander übernommen wurde.